Ahmadi Poet Denounced Ahmadiyyat
Date: Saturday, October 03 @ 07:12:45 CEST
Topic: Left Jamaat


Bismillah Al-Rehman Al-Raheem
Anti Ahmadiyya Movement in Islam 20th September 2003
Gold Medalist Qadiani Poet Embraces Islam
by
Dr. Rashid
Another high profile Ahmadi, Muzaffar Ahmad of German Jamaat, has denounced Ahmadiyyat and embraced Islam, according to the Daily Ummat report. (Rashid)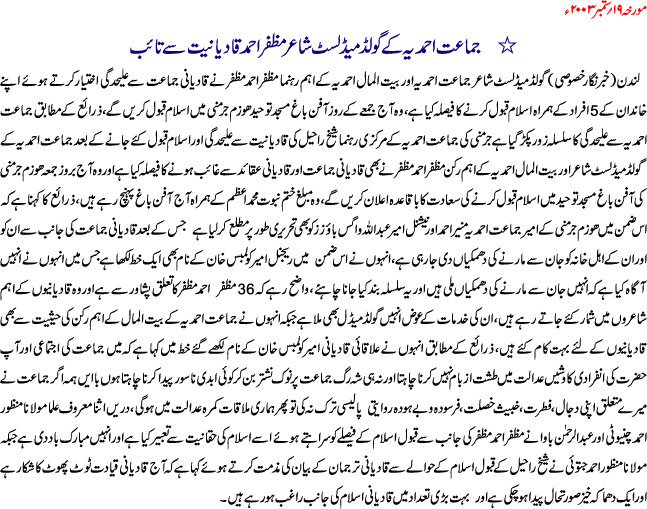 Daily Ummat Karachi Office # 1, Block-4, Hockey Club of Pakistan, Liaquat Barracks, Karachi-4 - PAKISTAN Voice: +92-21-5655270, 5655271, 5655272. Fax: +92-21-5655275-6 Copyright©2003, All Rights Reserved. Webmaster
Dated 19th September 2003
Gold Medalist Poet of Jamaat Ahmadiyya, Muzaffar Ahmad has denounced Qadianiyat
London (Special Reporter) Gold Medalist poet of Jamaat Ahmadiyya and an important leader of Bait-ul-Maal Ahmadiyya, Muzaffar Ahmad Muzaffar has decided to quit Qadianiyat along with five members of his family and embrace Islam. He will embrace Islam today, Friday, in Tauheed Mosque, Offenbach, Germany. According to sources, the denouncement from Jamaat Ahamdiyya has gained momentum. After the departure of Shaikh Raheal Ahmad from German Jamaat and embracing Islam, the gold-medalist poet of Jamaat Ahmadiyya and important member of Bait-ul-maal Ahamdiyya, Muzaffar Ahmad Muzaffar has also decided to denounced Ahmadiyyat and Ahmadi beliefs, and today on Friday he will formally announce his denunciation of Ahmadiyyat and the honour of acceptance of Islam in the Tauheed Mosque, Offenbach, Germany. He is reaching Ofenbach today with Muballigh-e-Khatme Nabuwwat, Mohammed Azam.
Sources say in this regard that the Ameer of Husum Jamaat, Muneer Ahmad, and National Ameer, Abdullah Wagushauser has also been informed in writing, after which he and his family are receiving death threats from the Qadiani Jamaat. He (Muzzafar Ahmad) has also writtena letter to the Regional Ameer, Columbus Khan, in this regard, in which he has informed him that he is getting death threats, and that this should stop.
It should be noted that 36 year old Muzzaffar Ahmad Muzaffar is from Peshawar and has been counted as important poet of Qadianis. He has been awarded Gold Medal for his services, whereas as an important member of the Bait-ul-Maal of Jamaat Ahmadiyya, he has rendered lot of services.
According to sources, in his letter to the regional Ameer Columbus Khan, he has mentioned that I do not want to expose the collective efforts of Jamaat and your individual efforts in a court of law, neither do I want to create a perpetual irritation for Jamaat by pricking its lifeline. However if Jamaat did not stop its Dajaal-natured, Evil-character, and old and stupid traditional policy against me, then we will meet in the court of law.
In the meantime, Maulana Manzoor Ahmad Chinioti and Abdur Rehman Bawa has praised the decision of Muzaffar Ahmad Muzaffar and labelled it as a proof of truthfulness of Islam. They have congratulated him. Maulana Manzoor Ahmad Chinioti has condemned the statement of Jamaat Ahmadiyya regarding Shaikh Raheal Ahmad's reversion to Islam, and said that Qadiani leadership is now collapsing and an explosive situation has generated and large number of Qadianis are turning towards Islam.
Daily Ummat Karachi Office # 1, Block-4, Hockey Club of Pakistan, Liaquat Barracks, Karachi-4 - PAKISTAN Voice: +92-21-5655270, 5655271, 5655272. Fax: +92-21-5655275-6 Copyright©2003, All Rights Reserved. Webmaster
Dated 20th September 2003: In his address to the Friday gathering in Tauheed Mosque, Muzaffar Ahmad Muzaffar said:
"This day is a very blessed day for my whole family. We are coming out of the tortuous valleys of infedelity, cunningness and deception into the straight and lighted path of Islam. The story Qadiani conspiracies, viciousness and wickedness is spread over hundred years. For me the reasons of my conversion are as follows: Behind this decision, there are seven years of day and night reading books, personal observations, internal conduct of Jamaat, staying away of the Jamaat from the Sunnat of Holy Prophet SAAW, Jamaat's unnatural and un-islamic attitude, innumerable pagan beliefs of the movement, Movement's attempts to flood the literature with alterations and metaphoricals in the meanings of Holy Quran, and the decisions of Muslim Ummat in April and Sept 1974 regarding Qadianis (declaring them out of the fold of Islam). On the other hand the claims of Mirza Sahib extend from being 'Self-Cultivated Seedling of British' to the claim of divinity. In summary the other name for KUFR is Qadianism. Therefore I alongwith my whole family denounce all those repulsive beliefs and announce my reversion to Islam.
(Urdu Poetry: Hum aisay saada diloon kee niyaz mandee say Butoon nay kee hein jahaan mein khudaeeyaan kiya kiya)
Because of the benevolence of simple-hearted people like us Idols have performed many divine acts all over the world."
In the end he thanked Maulana Mushtaq-ur-Rehman, Maulana Mohammed Ahmed, Iftikhar Ahmed and Shaikh Raheal Ahmad for their guidance and expressed his determination to work for the cause of Islam.
http://www.alhafeez.org/rashid/